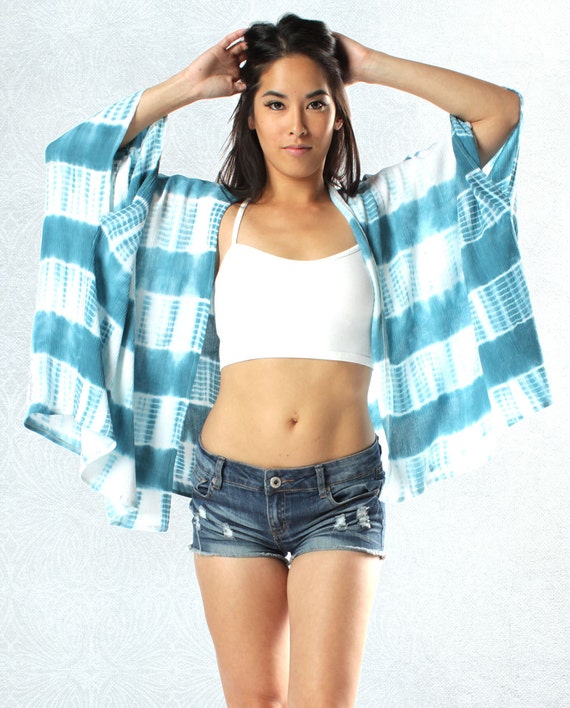 Kimono, Hippie, Music Festival Clothing
Inspired by the boho lifestyle and fashion, this open front kimono is loose fitting with lots of movement; comfortable with an effortless yet stylish look. It goes great with shorts, leggings, jeans, mini-dress, or as a coverup over bathing suits.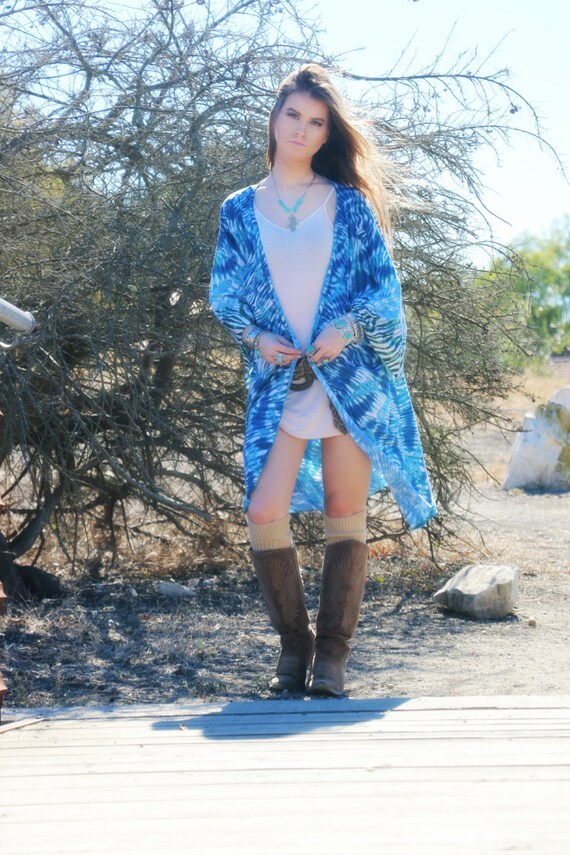 Cardi, Festival Outfit
For the feminine, colorful, bold, artsy and unique women out there; who want to look and feel good, sexy, stylish and comfy for any occasion all year around!***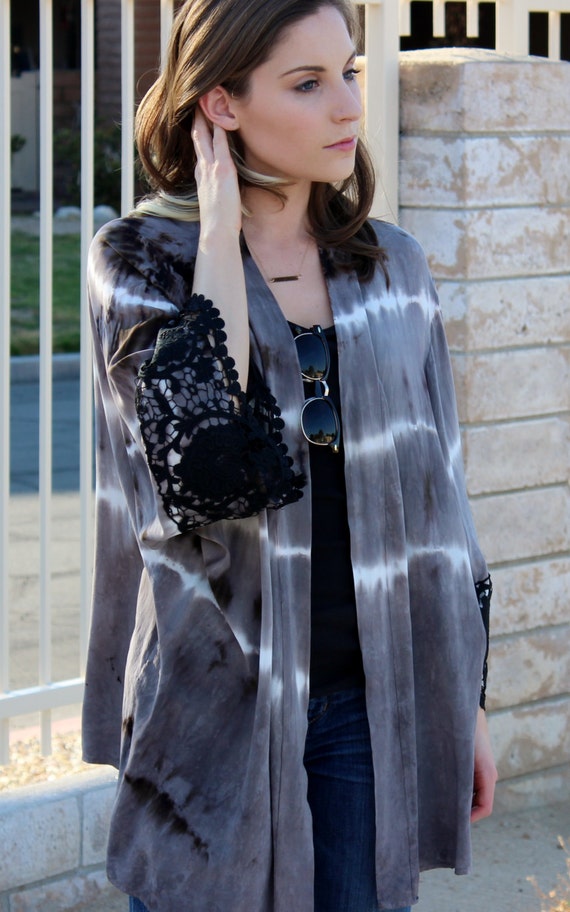 Charcoal Gorgeous!! Tye Dye Boho Kimono
Gorgeous!! This is a striking, handmade, charcoal tye dye Kimono with 3/4 sleeves adorned with romantic black lace. Truly stunning! **Each piece is one of a kind!** No two are identical. Black and gray shading will vary slightly per piece.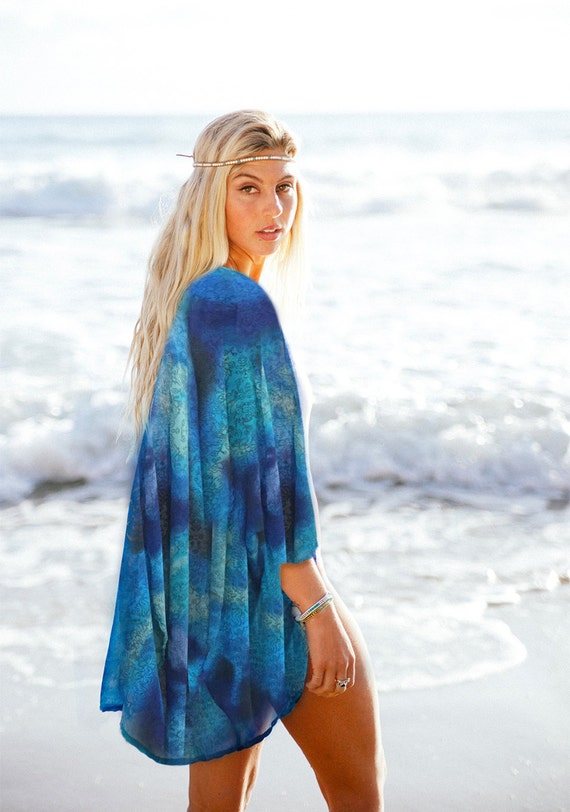 Boho Kimono, Tie Dye Ombre Boho Chic Swim Cover up
Embrace the breeze in this flowy, lightweight boho kimono. This cute ombre tie dye kimono cardigan is perfect for festival season. This piece has 3/4 length sleeves and is designed to fall a few inches past your butt in the back (model is 5'7) and to mid thigh in front. Offering ample coverage in the front and back, this will be your new favorite festival clothing and beach cover up! Pair it with a casual outfit or wear our kimonos over a bathing suit to the beach as a swimsuit coverups. This lightweight kimono cardigan is an easy and convenient accessory to wear!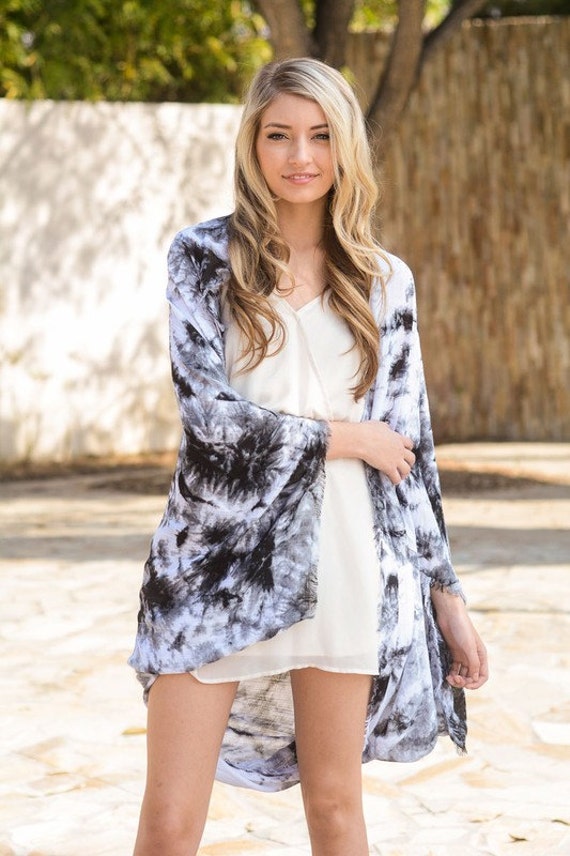 Kimono Top, Cover up
Hello everyone. Ok, I know what you're thinking. Another kimono. I seriously LOVE them. This one is fun though because it's like a scarf/wrap/kimono. I feel like you can wear this a lot of ways. It's like an oversized sweater, but lightweight for summer. I love how it billows. I like the raw edge, like a a scarf, that makes it a little bit grungy. I would even transition this into fall and wear a long sleeve under it and change the shoes to boots.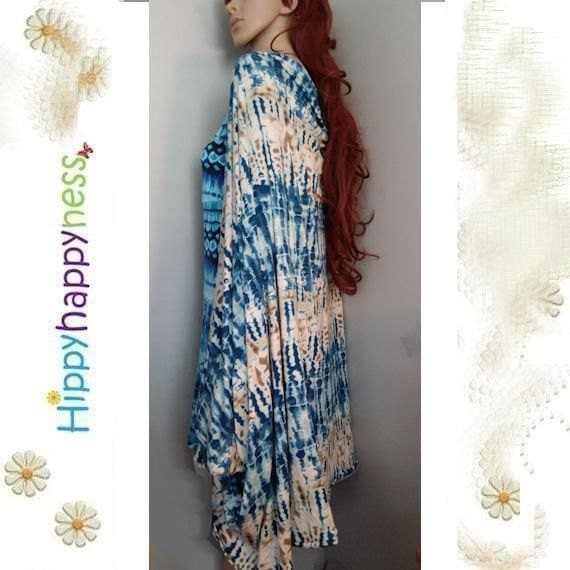 Boho tie dye kimono yoga cover / taupe blue cream hippie tie dye kimono-style cape shrug
One-of-a-kind (OOAK) oversized kimono-style cape / shrug with sleeves Cool and breezy-light fabric Great for days at the beach and summer nights Handmade with care Great alternative to a sweatshirt Great for layering with other items for all seasons Oversized and very comfortable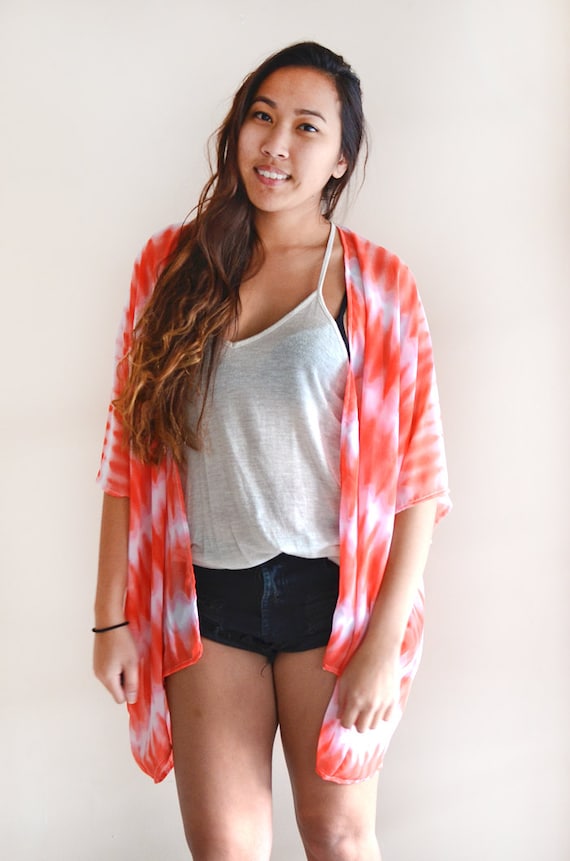 Boho Kimono, Tie Dye Kimono
Wear our kimono over a bikini at the beach, pair it up with some high waisted shorts and booties for a fun boho festival look, it's also great with a skirt and flats for a night out! This kimono cover up is a great versatile piece to add to your closet. 41" across 31" long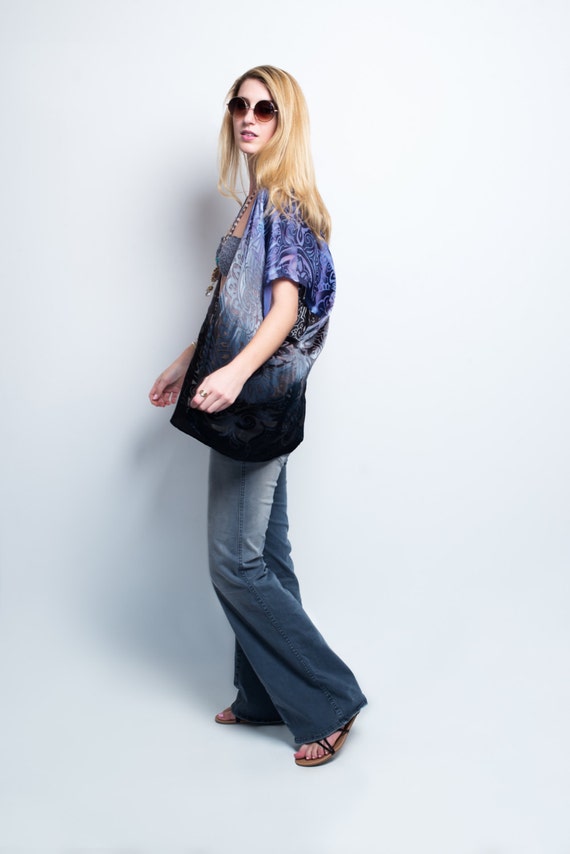 lavender purple to black ombre
This Boho-chic silk kimono is MADE TO ORDER. It takes about a week to make and colors can differ, given the whole process is handmade and one of a kind. It is a great accessory to transition from day to evening. Perfect for anywhere you wish to channel Bohemian luxury. This style uses a dramatic Lavender purple, grey to black ombré. We can create this again or custom design one in your favorite palette.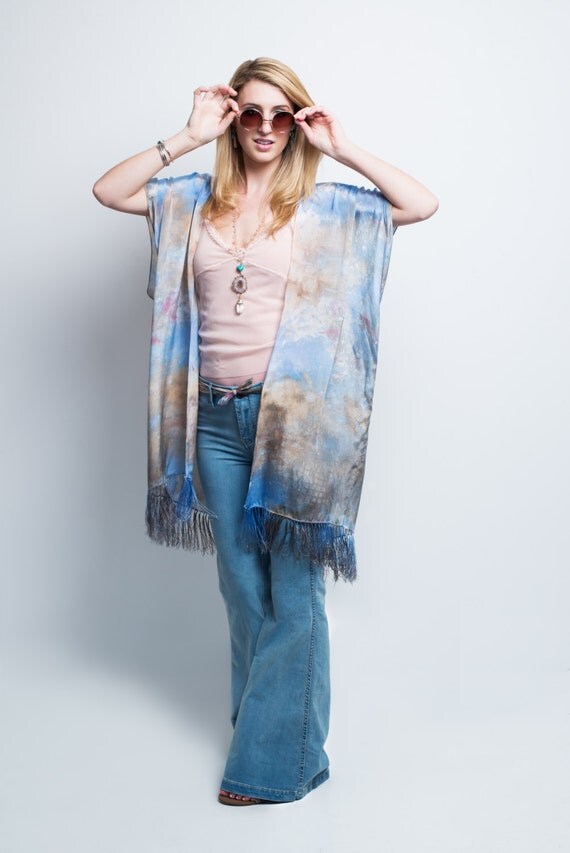 Bohemian clothing, Made in NYC
This Boho-chic silk fringe kimono is MADE TO ORDER. It takes about a week to make and colors can differ, given the whole process is handmade and one of a kind. It is a great accessory to transition from day to evening. Perfect for festivals, special occasions, the beach or anywhere you wish to channel Bohemian luxury. This style has an artistic palette of sky blue and peach pastel accents. We can create another using these colors or custom design one in your favorite palette.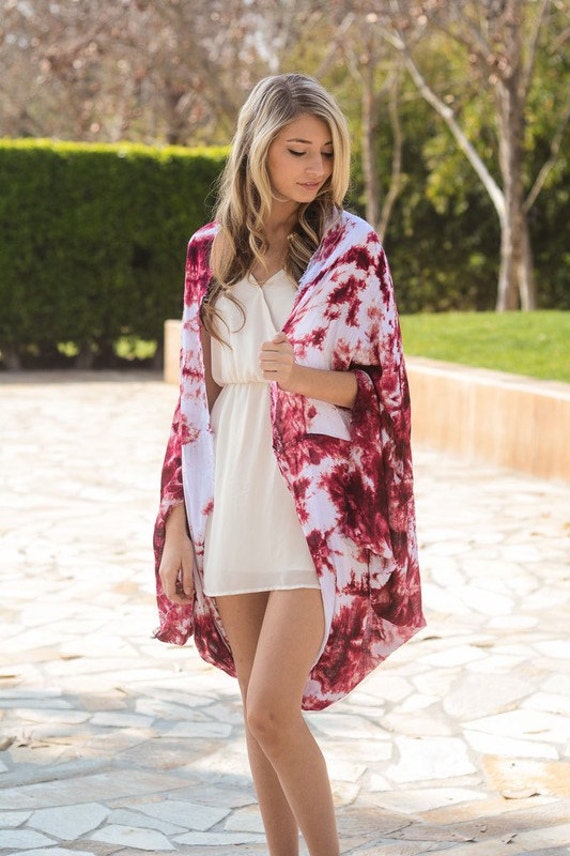 Tie Dye Bohomian Print kimono, boho chic
This is a beautiful Tie Dye boho print kimono with arm slits, great for traveling, a little cover-up for cooler evenings, day at the beach, dress it up or down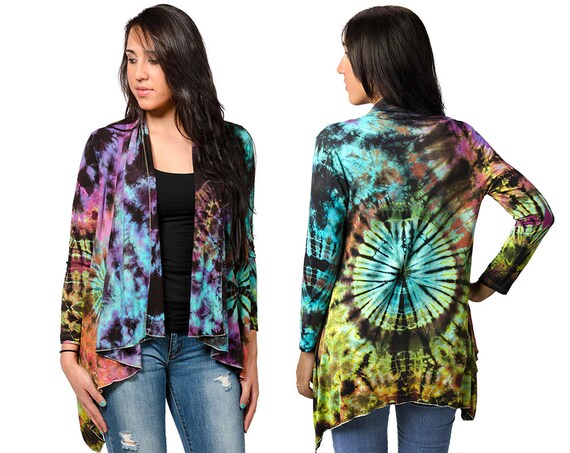 Tie Dye 2.0 Kimono Cardigan - Everything Multi - 191K
Our vibrant, chic and luxuriously soft Tie-Dye 2.0 Kimono Cardigan is the perfect over drape to compliment any free spirit look. Elegant but funky, all at the same time, to over wrap a Black Maxi Dress for a sophisticated night on the town or over a Solid Top and a pair of jeans for the ultimate chic festival look.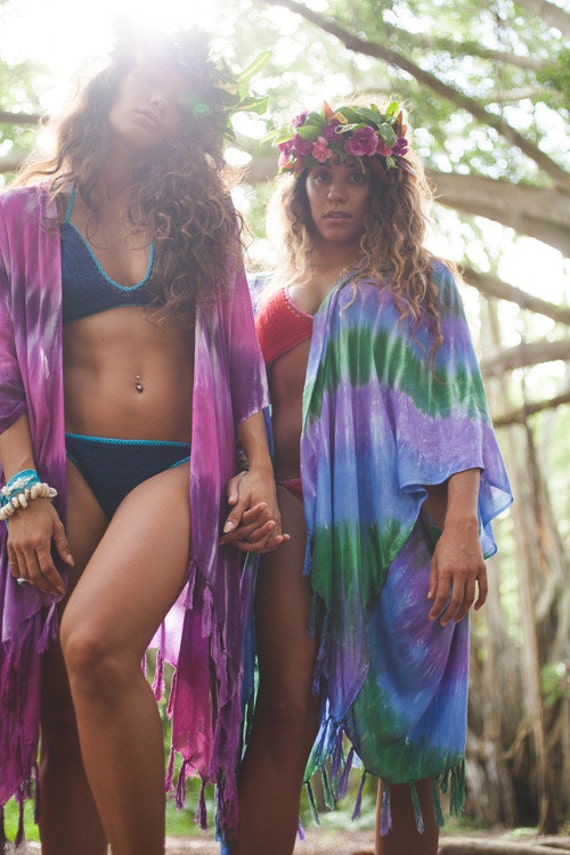 Hippie Days Lotus Kimono
These Hand Sewn Kimono's Are The Newest To Our Clothing Collection ~ So Incredibly Soft, Flowing And Just the Right Piece to Wear Anywhere & Anytime with Literally EVERYthing You Own! Tie Dye, Fringed Rayon ~ Just Gorgeous! Colors Available: Blue/Green/Lavender ~ 1 Available (On Model) Pink/Lavender Tie Dye Batik ~ (Sold Out) Orange/Purple/Gold Olive ~ 1 Available Dark Rainbow Mix ~ (Sold Out) Turquoise/Yellow/Orange ~ I Available Purple/Turquoise/Navy ~ (Sold Out) Royal / Lime ~ 1 Available Gold / Olive ~ 1 Available Red/ Brown/ Sunset ~ 1 Available Hot Pink / Lime ~ 1 Available Sherbet Mix ~ (Sold Out) One Size Fits All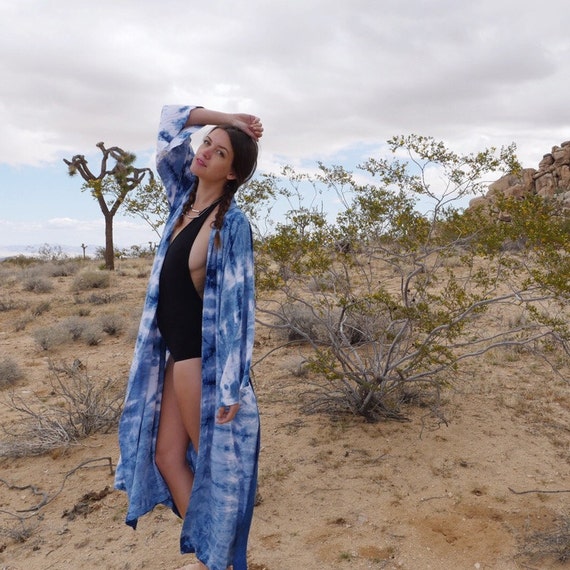 Hand Dyed Indigo Kimono Robe
The new indigo dyed Ocean Tide robe is exactly what you want to wear every morning and evening. The hand dyed rayon gives the drape and soft feel of silk, while being machine wash and dry. This robe is cozy and comfortable, has incredible drape while being super sexy and stylish...so basically its perfect. It folds up into nothing for easy packing and would make a gorgeous cover up at the beach and if you wear it out to dinner as a kimono expect compliments. This would make an amazing gift for a new bride!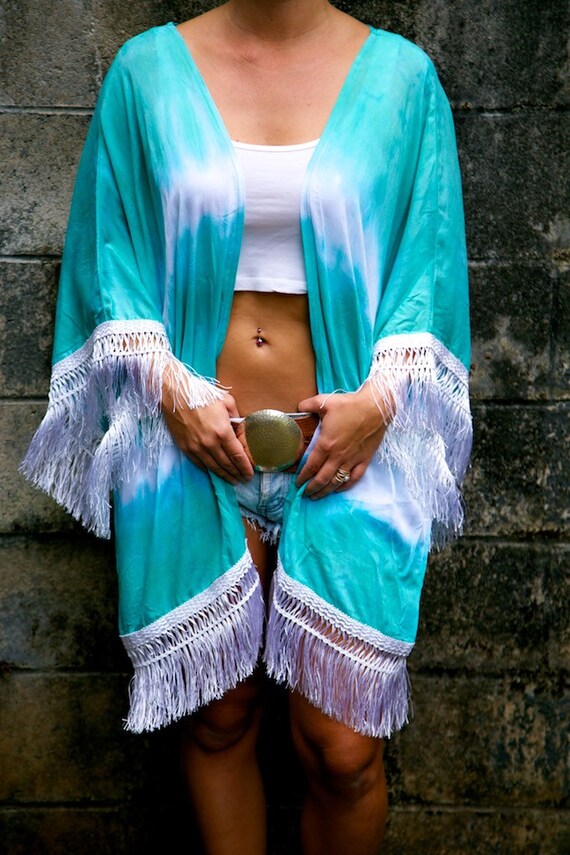 Kimono - Sea Breeze Kimono
This gorgeous kimono is everything "Hawaii". This beautiful garment has been hand dyed on the beautiful island of Oahu. The colors consist of mermaid green and angelic white. It is trimmed with white lattice chainette fringe measuring 4 1/2" in length. Nomad Hawaii is a young and vibrant brand that is based off of the traveler at heart; each piece is made by hand and is truly one of a kind. Enjoy wearing this kimono over a bikini or taking it out for a night on the town. Love knowing that you are spreading the "Aloha cheer" in this one of a kind creation! Please love this kimono by hand washing in cold water and hang dry.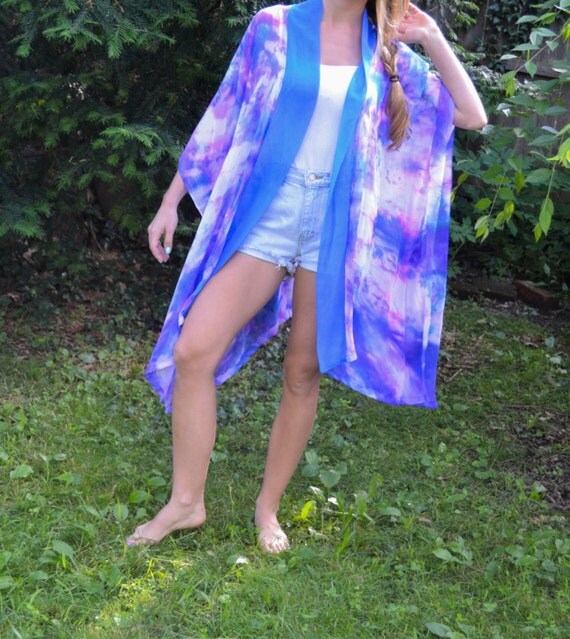 Silk Chiffon Hand Dyed Kimono
Each Explore piece is made from a series of steps.. this kimono was hand dyed using the Japanese Shibori technique of folding and tying to create a Mandala. The unique pattern develops outwards from the centre of the scarf, and is a beautiful blend of colors from all sides. No two Mandalas are ever the same and the result is always a one of a kind surprise.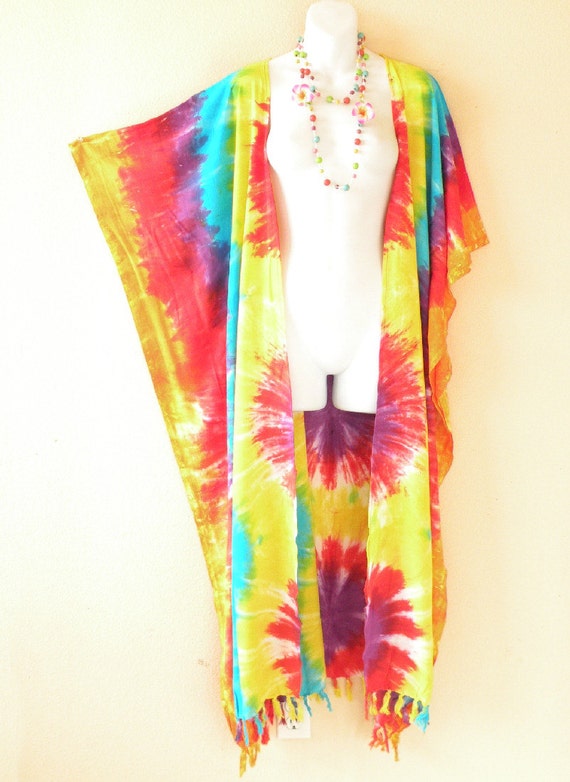 Multicolor Tie Dye Plus Size Cardigan Duster Jacket Kaftan Maxi Cover up Dress - 2X, 3X, 4X & 5X
Due to frequent demand for Cardigan style, my sister and I used the same kaftan fabrics to made them into beautiful Cardigan. Bundle up in style with this cute cardigan/duster maxi wrap. Design to bring comfort to drape beautifully to wide range of body shapes and sizes. With luxuriously premium rayon textured, this open front cardigan is a must have layering piece.