Today, May 27, is
Sunscreen Day
! or for those of you with a more satirical nature,
Happy Don't Fry Day!
Summer will be here soon (June 20, 2016) and Suncreen is on my of
Summer Fashion & Beauty Essentials Guide
.
Remember, Sunscreen protects your skin from the Suns Ultraviolet Rays. Excessive Exposure to these Ultraviolet Rays can cause Skin Cancer and Premature Aging.
Sunscreen is an absolute necessity - so, Let's protect ourselves, shall we? Here are some tips for your fabulous day out in the sun!
Sunblock Tip #1.
You Should Use Sunscreen anytime you're outdoors (not just in the summer) and EVEN when it's cloudy.
Sunblock Tip #2.
Wear Protective Clothes:
Long Sleeve Shirt (or Stylish Kimonos like these)
Sunglasses
Pants
Hat with a Wide Brim
Sunblock Tip #3.
Protect Your Lips! with a SPF 30 or higher lip balm/lipstick
Sunblock Tip #4.
Apply Sunscreen 30 minutes before you go outdoors so your skin can absorb it.
Reapply
every 80 Minutes - 2 hours OR after you sweat or get wet (even if the sunscreen is water resistant)
Sunblock Tip #5.
Seek Shade! If your Shadow is Shorter than you, look for a nice cool shady place to hang out in. Remember, You still have to apply sunscreen even in the shade!
Sunblock Tip #6.
Don't forget covering your toes and feet with sunscreen!
Sunblock Tip #7.
Use a Face Sunscreen for your face and a Body Sunscreen for your Body! They're each made for different purposes. You might break out if you use the Body formula on your face.
Sunblock Tip #8.
Windows don't protect you, so use Sunscreen even when driving or when you're hanging out in a nice window filled room!
Sunblock Tip #9.
Look for
Broad Spectrum
on the Sunscreen Bottle Label when purchasing! This means the sunscreen protects from both UVA
AND
UVB Rays.
* UVA rays cause wrinkles, premature aging and sunspots
* UVB rays can cause skin cancer
Sunblock Tip #10.
Sunblock loses it's effectiveness over time. So remember to check the expiration date or use a new bottle every year to be on the safe side!
Become a Sunscreen Expert!
Don't just take my word for it. Here are some links to major Skin Cancer and Sunscreen authorities:
American Academy of Dermatology
Skin Cancer Foundation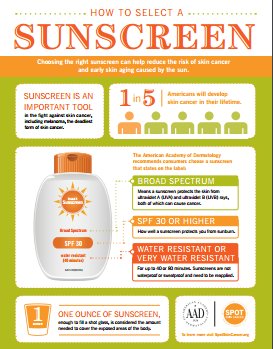 This image is from:
American Academy of Dermatology
Here are Some Cute Sunblock Earrings :)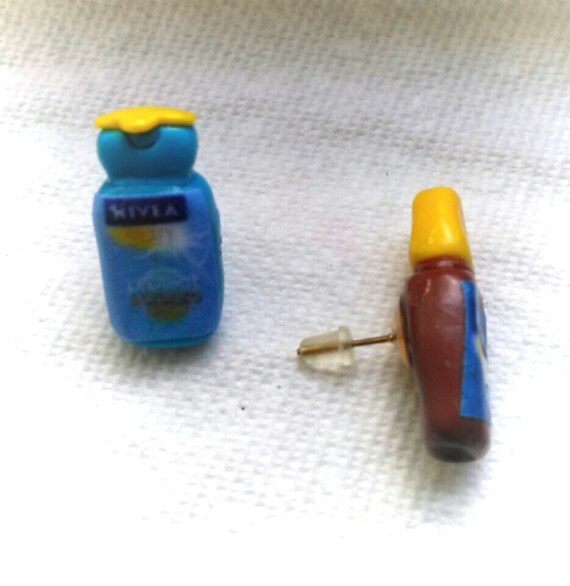 Sunblock earrings
Beautiful set lotion and sunblock earrings. Hand made with love. Perfect for wearing in summer or any light ocassion, they are lightweight, measure 1".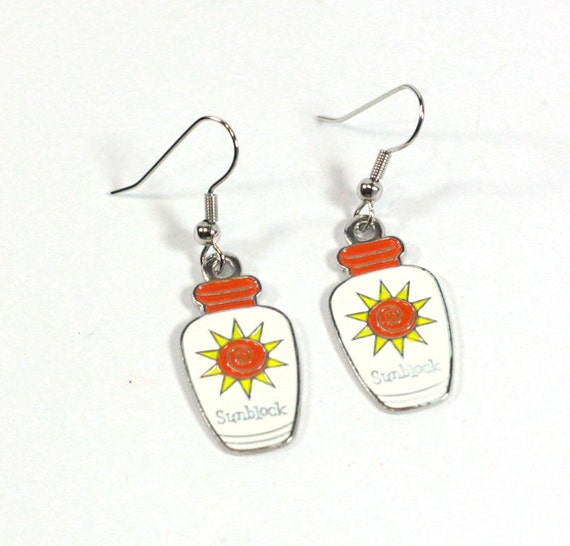 Sun block - Sunscreen
The perfect accessory for a little fun in the sun! Charms measure approximately 1 inch x 1/2 inch. Assembled by hand on metal alloy hooks.
Here's a great way to apply sunblock to those hard to reach places!
18" Semi-Flex Body-Reach+ Bendable Lotion Applicator - Unbreakable with Lifetime MFG Warranty!
Ideal for customers with an good to limited range of motion Unbreakable! Durable, bendable & light weight - Lifetime MFG warranty! Both sides of our unique Sponge-Able applicators are made from a soft, hypoallergenic nylon material. Over 1,500 Dermatology practices recommend the Body-Reach+ lotion applicators to their patients Additional attachments: Patented, Made in USA (All wands are shipped with (2) SpongeAbles)